Too often, people view content strategy purely as messaging bullet points to connect web visitors to your organization's goals.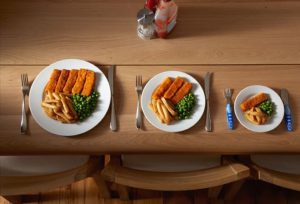 But to truly engage with your audience, you need to delight their palette with an appetizing blend of content types and lengths.
(Yes, I am writing this around lunchtime, but stick with me. I always use analogies for tech talk…)
Sometimes you crave "kale" content to make you smart, while other times you want something a bit more "junk food" style, like a social quiz.
It's not just the substance of your content that helps support your mission.  Also consider the time investment to consume.
When you think about your own online habits, do you always want a big, heavy sit-down meal, like a long feature article? Or do you like to mix it up with a light snack or a quick bite on-the-go like a two-minute summary video or an infographic?
A varied menu of content offerings — and better yet, content bundles — lets your visitors choose the consumption they want with every visit.
It's important to remember that when outlining a content strategy, page views are not the goal. You want to focus on outcomes and engagement.
Just like your design, your content strategy should consider what device they're using.
Screen size makes a big difference in the types of content we gravitate toward. So mix up your media with a long-form article. A Buzzfeed-style list. A quiz. Video lessons. Podcasts. Or an Alexa Flash Briefing.
You can't just have a big block for body copy in your content management system (CMS). Your best approach is to provide different options to parse the content, like a summary that can be used in several places (such as voice-assistant to read it aloud).
And you can go even further by thinking about the consumption context. At an airport? In the office doing research? On a deadline?
And finally, you must realize that just like food, content has an expiration date.
Evergreen content is really a myth, unless it's something as basic as your contact information.
It's not uncommon for your board or executive team to believe that everyone wants to receive every piece of content you create. Step back and ask what they are worried about, and what is the actual goal the content should provide? Is it for audiences to be educated on a topic, to attend a program, to make a donation? Then create or edit your content to support (and measure action) on those things.
For extra brownie points (mmm, brownies), please don't make your audience members have to know which department created content in order to find and use it.
Bon appetit and happy strategizing!
h/t to Leslie O'Flahavan of E-Write as the creator of this killer analogy: https://en.wikipedia.org/wiki/Bite,_snack_and_meal